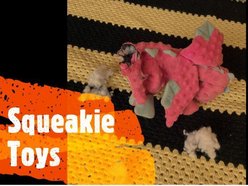 Consisting of a trio of A-list players,  Squeakie Toys recorded 13 songs in a single day at Studio "A" on January 20, 2022.
Guitarist Tay Uhler toured the world with Johnny Rivers, The Mamas & The Papas, Jan & Dean, worked with producers Lou Adler and Quincy Jones, appeared on numerous television programs, and both composed music and played guitar for feature films.
Drummer Mike Kowalski joined The Beach Boys in 1968 as their principal drummer and continued continued off and on for 30 years. He also performed and recorded with Etta James, Sonny & Cher, and Little Anthony & The Imperials. 
Bassist Gary Kaluza wrote music for, and performed with, Silke Berlinn and the Addictions, Cassandra Estevez, David Tyson, SquirrelEXplosion, Bleeding Deacons, The Glory Chain and Pepsi Cola.
Rather than building each song by recording one instrument at a time, the band wanted to record the album in "the traditional way" -all at once with the whole band in the room.   The session was engineered by Pat Murphy and Studio "B" manager,  Bill Davis.